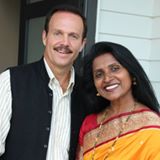 John and Nancy White are your hosts at The Pillars Retreat luxury B&B in Taupo.
John and Nancy are  Kiwis, John was originally from the USA and Nancy was originally from Fiji and both have lived most of their lives in New Zealand. They have traveled extensively to all parts of New Zealand before traveling to many parts of the world with their children, gaining a positive world view of humanity.  Both John and Nancy have many years experience in the Hospitality Industry, Finance Industry and the Education and Training Industry.  Moving to Taupo is a life style change, one where they can in addition to using their years of business experience, put into practice their youthful outdoors, horticulture, farming and bush craft experience.
We aim to make our guests experience a memorable one, "..to come as guests but leave as friends".
The Pillars Retreat is  nestled in a picturesque rural location, just minutes from the Taupo town center, is perfect for guests looking for a country stay in Taupo, and is centrally located for day trips to Rotorua, Napier, Tongaririo National Park and the famous Waitomo Caves.
Find out more about The Pillars Retreat luxury accommodation and facilities.
Our Awards
We strive hard to achieve excellence, and are proud to have won these awards:
In January 2016 we were rated by TripAdvisor as the #1 Small Hotel in New Zealand, and the #2 Small Hotel in the World! You can read the article published in the New Zealand Herald here: http://www.nzherald.co.nz/travel/news/article.cfm?c_id=7&objectid=11577987